SiteMap
Message Board
ClanMacColin on Facebook
!
Pix of MacColin*
Pix of MacColin* (frames)
Schedule
Calen
Hot News!
Faire news
Information
Basic Guide
Latest Pix
CMC Links Header
Outline of Links
Address Update!
Glenderry Map
A Bibliography
'Home' Weather
LiveIreland- a little music
Standard MacColin Documents
Press Release
MacColin in the 16th & 20th Centuries
Chief's Bio
Clan Lore
Requirements
Goods Requirements
Sumptuary Law
The documents are print ready, so return here with your browser's back button.
---
The MacColin Bros. Occasional Mercantile & Sutlery
---
This site by:
Norman Montgomery


Odo MacColin,
ceann teig na Tournaig,
'an fear sporran,
meor ballie

*Next Event:
Tell the Chief you are/not attending!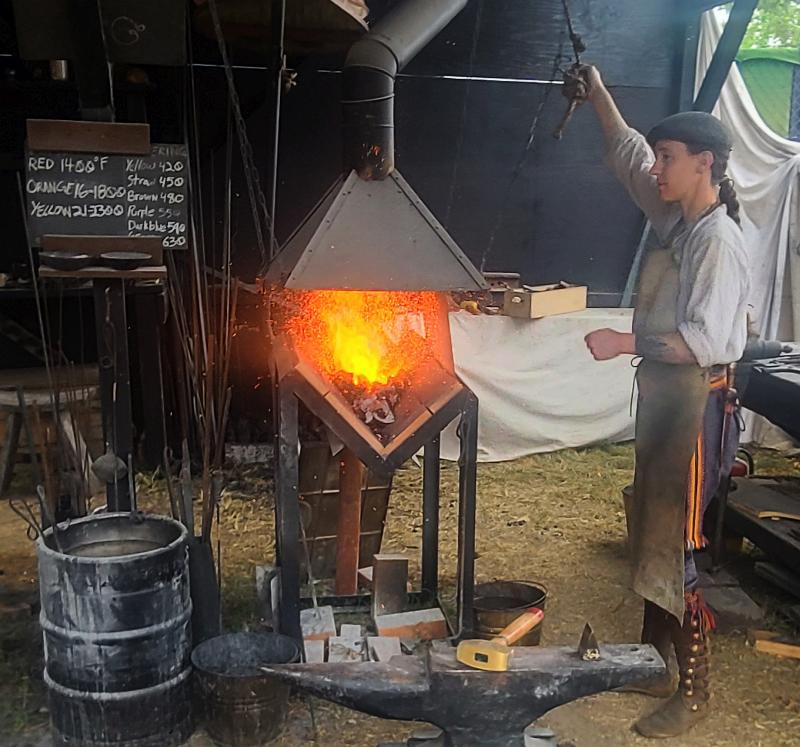 The Latest from the Chief...
My chihldren, yet again we have completed another Fair in fine form, and have done ourselves proud. May you and your homes recover quickly as the Holiday season arrives.
Check the Message Board early and often for news, and daily during the run, especially the Faire 2012 page and The MacColin's Soapbox. You can join it to monitor events and communicate with other members more easily. Remember to sign your posts and make sure you have identified your user name to help me know who is who and keep the spam out. Do use the Rideshares page.
Please spread the word to your regular clan correspondents you phone or email. Facebook is useful for the casual social contact, however it is an insecure adjunct which will not have non-public information, especially what I have to pass on to you from the company. www.facebook.com/ClanMacColin is for the general public.
If you have any questions please email me, ColinChief@hotmail.com and CC Lonny, chief of staff, especially for anything that has a deadline.
Yours aye, Steven
---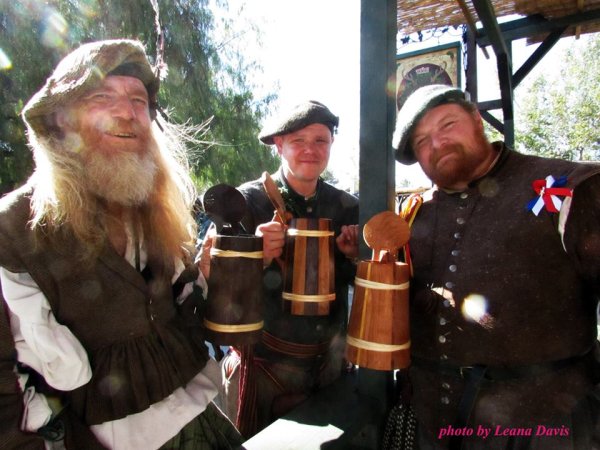 My greeting from home, with the offspring greeting me in the backyard after Faire Teardown again.

Please give feedback about MacColin.com, and email me notice of any problems on the web site. What I don't see or know about doesn't get fixed.

The big batch of pictures is 800x600 in PhotoBucket with Faire 2013, with larger available from me. Do send me links to your batches to put into the links at the bottom of the pictures page, and let me know which shots should be on MacColin.com, and which should go away. It should be enough to interest and remind us, but not overburden. FAIRE11 needs to get trimmed down to size. Little has been added to FAIRE12, as Facefook has filled that part for us, but outside the family, MacColin.com needs to present us for te outside world, and new people, so let me know what you think would be best there.
Latest Pictures need feedback, and some more pix, since for many parts I can't carry the camera. Most pictures are being posted at 600 x 800 now, which needs review and feedback. Tell me which pictures are not wanted.

The MacColin Basic Guide has information you are required to know as well as much of the basic information aggregated in the past 30+ years. You can also download Basic Guide in .pdf format.

The 'Clan App' covers more than the address for the Seannachie so one is needed for each member, including kids.
It covers contact information (we need to add more for this), legal, and medical information (we take care of our own and pay attention to diets), including date of birth for each, which allows the chief to answer questions like "How many kids/minors/adults do you have?" from Faire, and updating for Pikemitsfa (under age is no dues, but insurance is required for every member).

ID Project needs a clear, small 150x150 pixel picture of each face, kids included just like apps, that will read when printed by a b&w printer so we have a reference. It helps in learning 16th & 21st century names and returning goods. Send approriate pictures with 16th & 21st century names directly to Odo. You can also get marks approved, registered, and published. That also means you can pick a picture you like, instead of me making do with what I can, including clowning.
Sample:
You can also send me proposed personal marks, and I can respond. Currently paid up members may request copies of the Who's Who by email (as well as the Clan Directory and Marks), with the address you want them sent to if other than attached to a reply. The Marks Registry is better for learning existing marks, and many need to register a mark, while the Who's Who is better for returning them, while learning a face, name and mark that go together. There are unregisterd marks on goods which left them in the Chief's hands, without a return ID. And do remember, Unmarked goods are the Chief's goods.
You know how to do an address update, and this way we are a current as possible.
Timeline, and Warrants are at a standstill.
The Outline of Links of the sets of links will help with where to look and link to them.
In the Outline use the Find function (most browsers use ctl-F) and look for a related term, like "lyric" which will also find lyrics, and once you are in the area, follow the outline tree up. REF07 I 4 vii d 2 is the outline location, so click the address, and scroll to I (Scot) 4 (Social graces) vii (music) d (other) 2 (Lyrics) and start doing the old right-click open in other window on each one that looks likely. Some links are old (these are the most useful sites I have found in the past years, over 4000 links, and some die every month) or slow, or are limited traffic. Try surfing these links, there is more stuff related to our interests in these than you can read in a year. And if you find another good one, let me know, and it will be added for the rest of us to use.
If You would like something in the site, drop me a line! More information about the site and policies is available.
.. . . . . . . Thank you!